Thank you for taking an interest in my personal work. Here I talk about my projects I did in school and on my free time. Thank you again and if you have any questions about any of my work feel free to contact me at Scottmfine@hotmail.com Enjoy!
Diamond Raven Games - March 2015 - 2017
After my previous Employer fell into financial turmoil and laid off a good chunk of their staff (myself included) I figured I needed something to do until I find my next Game Design position. Luckily I wasn't the only person to think this way and I convinced an artist (The incredibly talented Josie Noronha) to join me in this venture. Fast forward a few months and we founded Diamond Raven Games. A premium quality App development studio. And as of July 24th we released Haunted Hop a jump rope game using the power of UE4 to bring the game to life.
See more Diamond Raven Games news: Here
Haunted Hop
Description of Game:
In Haunted Hop the player is tasked Jumping over the fire rope. When they successfully jump they receive a point. If the fire hits them they lose. Sounds easy enough? Watch out though the fire changes speeds making a game which sounds easy quite challenging.
My primary focus on this game was Design and Programming. We split most of the business/social media responsibilities.
2014 Full Sail University Game Design Degree Final Project - Finished March 2014
The iSolve project was my final project for my Game Design Degree at Full Sail University. I worked for 4 months with 4 other very talented individuals in UDK to create a playable game using assets only supplied by the DevKit. The game we set upon had the player navigating their way through destroyed space ships. They could spawn in boxes, walkways and rocks. The player could jump on boxes and walkways but the boxes could also stop swinging pendulums. The rocks were used to clear debris and activate pressure switches. But all these objects came at a price. Luckily the player could sell the boxes and walkways back for half price. I focused heavily on the coding in this project and contributed to the level design as well. The following videos showcase a few of the levels from iSolve.
In the first level we taught the player the basics.
How to move & Jump

How to spawn & sell items

How to move the camera

How to use mouse interactive switches

Consequences of death
In the second level we further reinforced these topics:
forced the player to think about money and possibly running out if they are not careful.

Save spots & additional money given at save spots

Player had to look around more for ways to progress
In the third level we continued to reinforce previously learned mechanics while introducing a couple new ones:
How to stop moving pendulums temporarily

Rock smash through objects functionality
The fourth level for my final project for my Game Design Degree at Full Sail University. 2014
In the fourth level we introduced alternate functionality:
Using a rock to activate a switch

reinforces previously learned mechanics

Using multiple objects together to progress
Final project Team:
Scott Fine
Amber McCausley
Marc Mullen
Max Sakai
Derek Prate
2013 Demo Reel
This is my 2013 Demo reel it showcases most of my work leading up to my final project. The 3D scenes shown in this reel are from school projects as well. The 2D game shown, Captain Bitz, is a game I released for iOS previously to my being educated in the ways of game development and marks the 3rd game I released.
Fine Game Studios
I started game development in the end of 2010 beginning of 2011. I had just transferred and started my education at Full Sail University and I was stuck doing general education classes. I wanted to make games so much that I downloaded game salad and taught myself (with the help of online tutorials) how to make and release games. Thus resulting in my releasing 3 iOS games before my game development classes began. Those three were Adventures of a round object, Rainy Drops and Captain Bitz. While they no longer reflect my skill in game development I feel they are important as a reminder to myself as to where I came from and of my passion for game development. Below are some screen shots and descriptions of these games.
The Fine Game Studios final logo was a Husky in a cup.
Captain Bitz - Released June 18, 2012
Game description:
Captain Bitz is a defend the castle style game with a twist. Set in the seas near Woofbark castle Captain Bitz is attempting to break through the dams protecting the castle and steal the golden fish! It is up to you to help Rowlo and the dogs to stop the Captain in his tracks and repel his band of roughians. But watch out because the Captain is a sneaky one and has a few tricks up his sleeve.
No animals were hurt in the making of this game, though we can't say the same for the developers.
Features:
-40+ levels in the campaign
-Dogs, cats, turtles OH MY!
-Unlockable Boss Battler mode
-Unlockable Survival mode
-Unlockable bonuses to help you through the bonus game types and/or campaign (clouds ON/OFF, MAX Stats and Extra Life)
-Fully functional gamecenter supported leaderboards!
-Legendary gameplay!
Primary mechanics & features:
Tap on the enemies to do damage to them

Tap on the the enemy projectiles to reflect them back at the enemies thus doing damage to them and saving your walls from harm

Tap on cannons to shoot cannons at enemies.

Buy upgrades, depth charges and repair walls from the shop
Rainy Drops - Released February 2011
Image Descriptions:
1. In rainy drops the player chooses a song then taps on the rain drops along with the music.
2. I was fortunate to find Kevin MacLeod. At the time he had a deal for indies where we could use his music as long as we gave him credit.
3. The players would tap on the blue rain drops and avoid the green ones. If they missed 3 blue drops or tapped 3 green ones before the song ended they would lose the game.
Game description:
The first game of its kind! A musical rain game!
2 game modes!
Endless mode:
Tap the rain drops to play the music. Miss one or tap a toxic drop and the music will stop! How high can you score?
Track mode:
Can you survive till the end of each song?
FEATURES:
++A full soundtrack composed of trance, techno and even a little Tchaikovsky!
++Leader board!
++ten songs to choose from!
++2 modes of play!
++Beautiful background photos!
++Gorgeous graphics and interactive menus!
++Perfect multi-touch controls so you can catch all the drops you can touch!
++So enjoyable you wont be able to put it down!
Primary mechanics & features:
An excellent soundtrack!

Tap on the blue water droplets to continue the music playing

Tap on the green water droplets, the music will stop and the player will lose a life

Lose 3 lives or miss 10 blue droplets and it's game over
Adventures of a Round Object - Released December 2010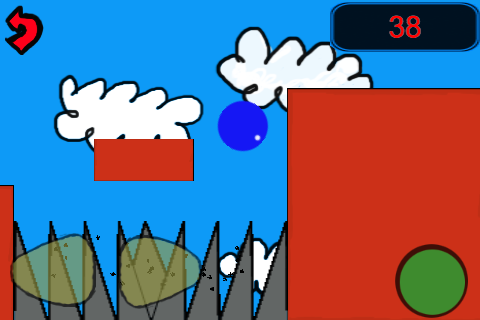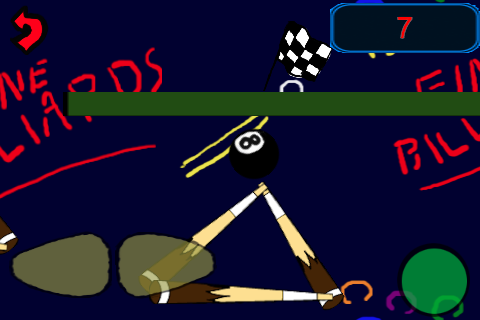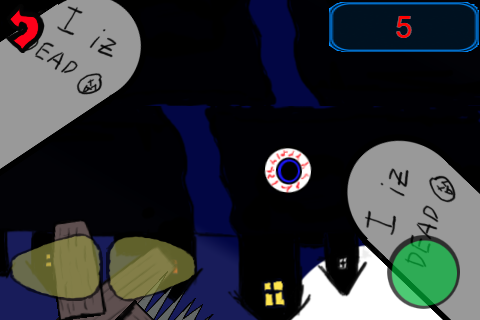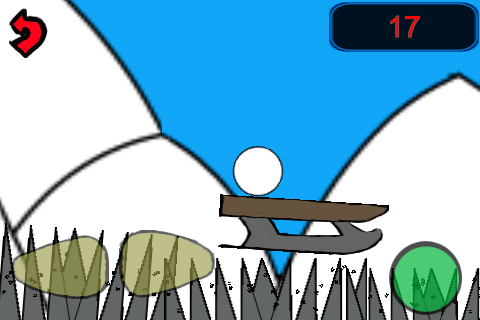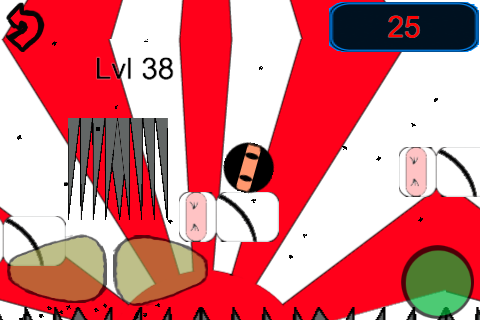 Game description:
Don't be a square! Roll your way through life!
With 40+ normal and secret levels to survive you have to be well rounded. Can you roll and bounce your way to the finish faster than your friends?
Stuck? roll on over to level select and jump to the next level.
You're a round object with two objectives, first get to the finish line and second SURVIVE! Good luck and roll on.

FEATURES:
++Over 40 levels to explore and beat!
**Turn off the game music so you can listen to your music!
**play from beginning to end to get a high score!
++Wildly fun and addictive!
**Easy controls
++fun for everyone!
Primary mechanics & features:
40+ levels

Movement and jump buttons

Each "World" had a different theme or gameplay gimmik

Blue ball - training no special theme

8 Ball - Sharp hills

Eyeball - More verticality than 8 ball levels and experimenting with falling

Snowball - Played with moving platforms and player trying to balance a ball

Ninja Ball - Could jump an additional time if they were touching the white ninjas